Crew Blog
Ring of Honor is coming to the Twin Cities!
02/16/15
Amazing wrestling action is coming right here to the Twin Cities! Don't miss your chance to see the Ring of Honor LIVE at the Hopkins Eisenhower Community Center Saturday, April 25 starting at 6pm for THE CONQUEST TOUR.

The CW23 will also be there to pump things up and to hand out some free swag!
In the meantime, get your tickets for the event at ROHWrestling.com and also tune in to the CW23 Saturdays at 10pm to watch episodes of Ring of Honor!

We hope to see you there!
---
Transformers: Age of Extinction
06/24/14
Hey Twin Cities!
It's Jon Foss here and recently I had the amazing opportunity to meet Nicola Peltz and Jack Reynor who star in the film Transformers: Age of Extinction. They were in town to get the word out about the film and meet some fans. We were lucky enough to get an interview with them where they told us a little about the film, what it is like to act alongside Transformers, how they were cast, and some hilarious behind the scenes stories featuring Mark Walberg.
Check out the interview on our video page and make sure you catch Transformers: Age of Extinction in theaters JUNE 27TH!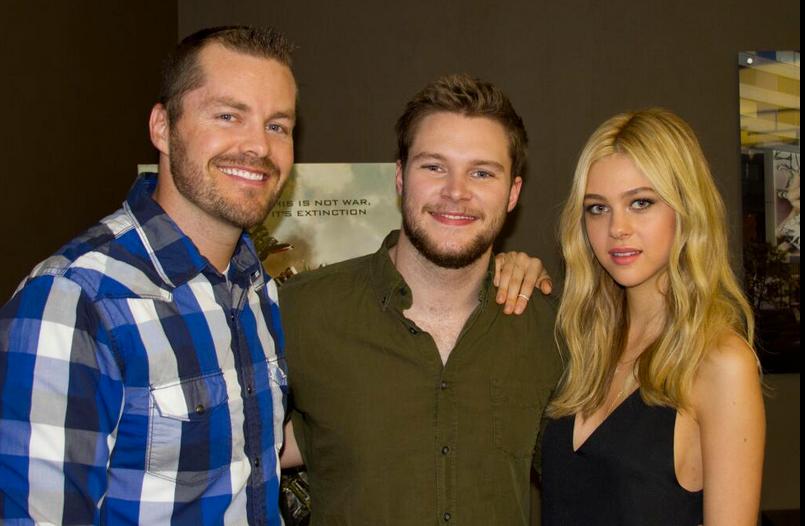 ---
New Face at CW23...it's Jon Foss!
06/11/14
Hey Twin Cities! My name is Jon Foss and I am the newest member of the CW23 Crew. I am extremely excited to be apart of the team here and have been loving every minute of it! I have felt like a kid in a candy store working for the CW23 because of all of the great projects we have been working on.


Check out my interview with Carly tonight at 9:55p OR on Saturday or Sunday at 6:55PM on C-Whats Now to learn more about me. Also, feel free to hit me up on Twitter (@jonfossCW) and check out my bio on our website for some fun facts.


I will also have some great interviews coming soon including the actors from The Jersey Boys, Transformers: Age of Extinction, and more cool guests. So stay tuned for that!


-Jon
---
Guest hosting on KDWB to talk all things CW 23
04/16/14
Falen of 101.3 KDWB's Dave Ryan in the Morning Show is off to get married this weekend (congratulations, Falen!), which means, I get to step-in as guest host of the hottest morning show in Minnesota. The morning crew was kind enough to invite me to hang out with them Thursday and Friday to talk entertainment and, of course, what's happening at The CW.
Tune in tomorrow and Friday from 6am-10am to hear about the latest in primetime TV including what you can look forward to in the season's final episodes of The Vampire Diaries, Reign, Arrow, and The 100. That's not all, I'll also recap what it was like behind-the-scenes of the Minnesota auditions for Family Feud. What did casting directors look for from families auditioning for the feud? Plus, a whole lot more!
Hit us up on Facebook and Twitter (@TheCW23) and let us know what you think when TV meets radio tomorrow on KDWB!
-Carly

---
Red Dress Collection 2014
02/26/14
Over the past 3 1/2 years I've been fortunate enough to attend dozens of local events in the Twin Cities since moving here. Each event has been wonderful in their own right- from great causes, to fun themes and social mingling; I've truly enjoyed being a part of this fundraising community. This last weekend I was invited to attend Red Dress Collection put on by The CWs very own Carly Aplin and I must say; it stood out above the rest. Red Dress was truly an evening of fundraising, fashion, and fun.
On top of being a television personality, CW host, and a busy Mom, Carly managed to put on this amazing event with the help of her dedicated committee. The evening included all the elements for people to have fun while keeping the focus on the reason for the event itself: Womens Heart Health. From the silent auction, to drinks, hors d'oeuvres, and sweet treats, everyone was having a good time. The evening really came together with the start of the runway fashion show (which was my favorite part of the event, hands down) One after the other well-known women from the Twin Cities walked down the runway completely owning their individually-designed red dresses. Everyone in the room could feel the energy as the models clearly had a blast working the runway. The whole room was brought to their feet with a standing ovation when Millie Muller and Elizabeth Smith took their turn on the catwalk. Both being Heart Disease survivors whove gone through countless surgeries- the audience was completely captivated by their stories and perseverance. I looked around when seven year old Millie Muller walked the runway and there were countless teary-eyes in the room (including my own). It was truly a compelling moment.
Carly says shes going strong once again for Red Dress Collection 2015- if you missed it this year you WONT want to miss it next year. In total the event raised $20,000 for Go Red For Women and featured models Jana Shortal, Jamie Yuccas, Julie Nelson, and Allison Kaplan just to name a few. Local designers including Christopher Straub, Emma Berg, and Adrienne Yaney among others who helped design the custom red dresses. Talk about a great evening for a fantastic cause. Way to go on putting together a wonderful event, Carly!
-Kirk
---
All New Mid-Season Dramas Kick Off With Star-Crossed!
02/19/14
As we launch into our mid-season dramas, its time to review one of the latest shows to hit The CW, Star-Crossed.
In the new CW drama Star-Crossed, a high school girl named Emery gets wrapped up in a world of secrets, betrayal and romance when a pack of aliens try to integrate into a futuristic society.
In true CW fashion, a love triangle is also established among in the pilot episode among Em, Roman, and Grayson. Emery has a long history with Roman, whom she met on the night the alien ship crash-landed, and now she meets him again when he comes to her high school. But meanwhile, Emery also has a thing for the adorably dorky Grayson, who just transferred to her school a year earlier and thus isn't entrenched in the popular kids' clique. Whew. Who are you rooting for?
Star-Crossed has all the makings of a big hit, with all the tried-and-true CW elements: drama, love and a little (or a lot) of sci-fi.
Dont miss the much-anticipated second episode of Star-Crossed, titled "These Violent Delights Have Violent Ends," which touches a little more on the differences between the two groups, such as differentiation in religious practices. Keep an eye out for an interesting bit of deception on the part of one character that viewers may not initially expect.
The drama continues every Monday night at 7PM! Dont miss it!
---
6 Reasons You Should Be Watching Reign
unset
I have a confession: Reign is my guilty pleasure. I don't just like it, I LOVE it. Everything about the show hits me just right. The storyline, the drama, the history lesson. I love it all. You'd think this type of show wouldn't suite a guy, but you couldn't be more wrong. This show appeals to everyone for SO many reasons. Naturally, I put together the top 6 reasons why you should watch Reign. For real.
1) Mary and Francis. They are former childhood friends who are now engaged to be married for an alliance between France and Scotland. These two not only have an insane amount of chemistry, but their conflict between love and country is truly compelling. It makes every episode edge-of-your seat suspenseful.
2) Mary and Bash. Bash is the bastard son of the King. Bash and Mary make perfect sense- theyre both outsiders in a sense. Bash has quite the crush on Mary (and I'm starting to think Mary has a crush on Bash, too) which complicates things. We can't forget, Bash and Francis are brothers. See the conflict? This love triangle is ohhh sooo good!
3) Queen Catherine. She's Franciss mother. To be honest she's completely WRETCHED. Anytime a character pulls a strong distaste from the viewer they're doing something right. She will go to ANY length to keep Mary from marrying Francis. Even if it means killing Mary herself. She plays a major role in Reign's storyline.
4) The supernatural. Theres a dark force in the woods surrounding the castle and a deadly premonition the Queen believes in strongly. Theres also a masked figure running about in the castle who seems to be causing more trouble than good. It's a cool element that thickens the plot in almost every episode.
5) Kenna. She is Mary's bestie and is a real firecracker. Shes pretty much the Samantha Jones of the friendship circle (for all you Sex and the City fans) which makes her unpredictable and totally captivating. Did I mention she's stunning? Because she is GORGEOUS.
6) The Fashion. I'm not one to gawk over clothing but costume designer Meredith Markworth-Pollack nails it. Every character in this epic drama is dressed to the nines, not to mention the fashion is perfectly 16th century. The elaborate dresses, armor, and traditional wear is more than note-worthy.
You can catch Reign every Thursday at 8pm only on CW23!
-Kirk

---
The Twin Cities HOTTEST Upcoming Events
unset
It may be cold outside but it's going to be HOT at the BEST Twin Cities events coming up this Winter! And, The CW will be a part of ALL the action! If you're looking for something fun to do while also giving back to a good cause- you have to check out these must-attend events!
DATE FOR LIFE- February 13th, 2014
Our very own Carly Aplin will be hosting this wonderul event for such a great cause! The Twin Cities most eligible bachelors and bachelorettes will be auctioned off at this fun, high-energy charity event. All are welcome to bid on date packages, including fun experiences for one or many, silent auction and live auction items. Proceeds go to support Childrens Cancer Research Fund. Enjoy cocktails and appetizers while mingling with some of the Twin Cities hottest dates! For tickets and more info go to: DateForLife.org
RED DRESS COLLECTION- February 16th, 2014
The Red Dress Collection is once again pairing local celebrities and designers for an exciting evening- culminating in a fashion show with Twin Cities celebrities walking the runway in an original red dress designed by a local designer. This great event has been worked on tirelessly since conception by our very own Carly Aplin. All proceeds from the show will benefit the American Heart Associations Go Red for Women program. Guests can also participate in a silent auction featuring packages from MAC makeup, 501FIT, spa packages and more. Each package includes an original sketch of one of the red dresses featured in the runway show. All proceeds from ticket sales, the silent auction and additional donations will benefit the American Heart Association's Go Red for Women program. For tickets and more info go to: RedDressMN.com
OSCAR EXPERIENCE- March 2nd, 2014
Now celebrating the 21st year, this event is not ONLY the longest running Oscar party in the U.S. outside of Los Angeles, its also the ONLY gathering in the state of Minnesota sanctioned by the Academy of Motion Pictures. Talk abouti a BIG deal! What is the best part about living like Hollywood royalty for a night? You get to dress the part, decked out in snazzy attire (black tie optional) suitable for sauntering down the red carpet, sipping on champagne (after being transported to the venue via a luxury UBER car, naturally), pausing for the cameras. What's even better? All proceeds will be split between the charities, Smile Network and Aegis Foundation, making the lavish revelry worthy of a standing ovation. This is a glammed up event that you won't want to miss! ! For tickets and more info go to: http://aegisfoundationinc.org/events/2014-oscar-experience/
Kirk and Carly will both be attending Date for Life and Red Dress Collection- come out and say hi to us, we'd love to meet you!!!
---
'Whose Line Is It Anyway?' Rocks!
01/22/14
Let's be honest. Comedy + improvisation + a star studded cast = hilarity! And that's exactly why you should watch 'Whose Line is it Anyway?' on The CW!
We're talking stomach hurting, cheek burning laughs. 'Whose line Is It Anyway?' has been going strong in the U.S. since the 90's and for good reason. It's been one of the most popular, long-time running comedies on network Television. Last year The CW made a wise move by picking the show back up and we are STOKED about it! (Can you tell we love this show?!?)
The CW will be airing encore episodes of 'Whose Line' this February on Fridays at 7p & 7:30p and a brand new season starting Friday, Match 21st. Don't miss it!
---
MANUARY!
01/14/14
It's that time of year again! That's right.... it's myTalk107's MANUARY! What's Manuary you ask? It's only the compilation of the HOTTEST, local, celebrity, men squaring off in a battle to determine the hottest hottie of them all! And our very own co-host KIRK DEWINDT has made the list!
Kirk will be battling head to head with the likes of Minnesota Vikings, Timberwolves, and Twins players as well as movie stars and TV personalities that live or work here in the Twin Cities. Ultimately only ONE hottie is crowned 'Mr. Manuary,' and we think Kirk has what it takes! The best part? If Kirk wins MyTalk107 will donate $1,000 to Children's Cancer Research Fund on his behalf!
Help us crown Kirk 'Mr. Manuary' by voting at:
http://www.mytalk1071.com/brackets/manuary_2014_010914
or
Go to our homepage and click on 'Vote for Kirk' under our Community Features.
---
5 Fool Proof Fitness Tips
01/08/14
As you may or may not know aside from my fabulous job as a TV host here at CW23 I own a personal training business as well. That's right, when I'm not in the CW23 studio I'm busting butts in the the gym! With a fresh start to the new year I thought I'd share some fool-proof fitness tips to keep you 'on the wagon.' You totally got this!
1) Eat Breakfast, Eat Often
Breakfast jump-starts your metabolism. Period. When you skip breakfast your body goes into starvation mode and tends to store more of what you eat. Your body thinks "Well, you haven't fed me since dinner last night (18 hours ago) and I don't know when I'm going to get fed again. I think I'll hold onto whatever is put in me next just in case they do that to me again." Also, now that you've eaten breakfast, EAT OFTEN. That way, your body knows it will constantly be supplied with fuel, so it's FAR less likely to store access calories as fat. Simply eating breakfast and eating more often will shed pounds regardless as to your exercise program.
2) Find a Workout Buddy
You know the feeling- its time to workout and its the absolute last thing you want to do. You choose to go to happy hour instead. Fail. But, what if your bestie is already at the gym waiting for you? You'd never leave them hanging would you? Research shows having a workout buddy holds you accountable and you're FAR more likely to carry out your exercise plans. Having a buddy makes things fun, holds you accountable, and will help you set aside time to workout. Plus it's an excuse for you and your pal to get together and gossip about the last obnoxious episode of The Bachelor, or whatever.
3) Be Consistent, Start Slow
Rome wasn't built in a day, just like your body wont change overnight. Far too often when starting an exercise program people dive in head first only to lose their ambition, burn themselves out, or get injured. Start with an exercise regimen that doesn't consume your life so you can maintain life balance, and your sanity. This way you won't come to hate your new exercise lifestyle and thus are FAR more likely to stick with it. Consistency TRUMPS short term ambition any day.
4) Strength & Endurance
Strength training with weights coupled with a cardio routine such as running will increase your metabolism drastically. Strength training builds calorie consuming muscle and cardio burns calories. Putting on a few pounds of muscle mass will increase your resting metabolism- allowing you to burn more calories at rest. Not to mention the calories it takes your body to recover after a tough weight training sesh. Now, add cardio in the mix which burns a ton of calories, and you have a revved up metabolism that has now become a fat-burning machine. Your body and your waistline will thank you for mixing in both weights along with cardio.
5) Ask for Help
This is where you check your pride and do the smart thing- ask for help. People who seek help from a professional are FAR more likely to be successful in their exercise program. A good trainer will keep you motivated, hold you accountable, keep your workouts innovative, and get you on track with your diet. A first time exerciser is more than twice as likely to get results and still be exercising a year later if they've worked with a professional. Having a specialist who supervises, supports, and motivates you will absolutely help you stay on track with your fitness or weight loss goals.
Come see me for a free consult and session, I'd love to have you!
Go to www.kirk-dewindt.com for more information!
-Kirk
---
Happy Holidays From CW23!
12/31/13
Few things in life compare to spending time with loved ones over the holidays. From family gatherings to bringing in the new year, it's a time of year to celebrate life and our relationships with one another. It reminds all of us at CW23 how lucky we are to not only have your support as a viewer of our station, but also as stewards of this place we call home. We consider you friends, and want to say thank you for being a part of our family here at CW23.
Now of course it goes without saying we also have a little fun during this festive time of year (see below) and we encourage you to do the same! Be silly, have a few laughs, and embrace those around you. Have a memorable holiday, a safe new year, and thanks for your support!
HAVE A HAPPY HOLIDAY AND SAFE NEW YEAR FROM CW23!
Kirk & Carly
---
Can't Miss Mid-Season CW Thrillers
11/26/13
Don't worry; all is not lost when it comes to TV over the winter months. Often, prime-time series air re-runs and postpone new episodes in the beginning of the year- keeping us in suspense far longer than we'd like for the drama we love to return. But, why wait when The CW has two, new, mid-season series starting?!?! Both are action-packed with unique and captivating story lines.You wont want to miss them!
STAR CROSSED (Series premier Jan/Feb 2014- date TBD)
We got a sneak peak of what's coming and must say this show has legs. Romance, action, suspense, and big-time conflicts of interest. All the makings of a classic, CW drama. If you are looking for a love story with twist this is your show! Here's our summary and take on the series:

When the lead female character Emery was 6 years old an alien spacecraft crash-landed in her small town. Out there, right? Don't worry, this gets good. When this happened Roman, a 6-year-old alien boy, found his way to a shed behind Emery's house where the two meet. Officials seemingly kill Roman in front of Emery leaving her scared, and Romans memory stuck in her mind. Years later, Atrian teens are allowed to enroll in Emery's high school- and Emery and Roman find each other again. Surprise! He's not dead. While the world around them rages with anger and prejudice, Emery seems to be the only human Roman, and the other Atrians can trust. Roman and Emery are drawn to one another to say the least- it's an epic Romeo and Juliet romance.

The 100 (Series premier Jan/Feb2014- date TBD)
We LOVE the plot of this show. The series reminds us of "Lost" with its own CW twist. It's full of action and a classic good vs. evil storyline. This absolutely could be the fix you've been looking for since "Lost" went off-air years ago. Here's our take on the series:

In essence, nuclear Armageddon decimated planet Earth- destroying civilization. Literally, all of civilization was lost. The only survivors were the 400 inhabitants of 12 international space stations that were in orbit at the time. Now that's one lucky group of people! Since then three generations have been born in space and the survivors now number 4,000- resources are running low and they are out-demanding their resources. It's a predicament that needs some serious solving. But, how you ask? Extreme measures are taken including capital punishment and population control as the leaders of the Ark take ruthless steps to ensure their future. Their most recent idea? Secretly exiling a group of 100 juvenile prisoners to the Earth's surface to test whether it's habitable or not. For the first time in nearly a century, humans have returned to planet Earth. Talk about a cool concept- a bunch of non-law abiding young adults forced to start a civilization on earth all while being monitored by leaders of Ark above? No way this isn't going to be good!
-Kirk and Carly

---
Follow us on Social Media!
11/19/13
Sick of not being "in the know" regarding the coolest on-goings and programming here at CW23? Be in the dark no more! How do you ask? Follow us on social media! There's a whole CW23 world out there and we'd love for you to be a part of it. Check out where to follow us as why:
Facebook
https://www.facebook.com/thecw23
Follow us for the latest happenings on our shows, events, what's going on in the Twin Cities, and to take part in the contests we're running. Interact with us and share your thoughts on our posts! It's a no-brainer to follow us!
Twitter
Follow us for fun and interactive posts about our shows ,celebrities, city happenings, and contests. We are constantly posting giving you up to date and trending stories!
Also, follow Kirk and Carly's personal Twitter accounts:
Kirk- https://twitter.com/KirkDeWindtPT
Carly- https://twitter.com/CarlyAplin
Text Club
Text CW23 to 58447 and you'll be a part of our Text Club! Well give you updates on our programming, fill you in on events, and it's your way to participate in our contests!
Instagram
Stay up to date with Kirk and Carly's lives via picture on Instagram:
Kirk- KirkDeWindtPT
Carly- CarlyAplin
---
Must-Attend Upcoming Events!
11/13/13
Sat 11/23 - Watch SEC football at Family Leisure with The CW23 crew! (10am-2pm)
Our very own Carly Aplin will be hosting the event and joining you at Family Leisure in Lakeville for some heavy-hitting SEC college football!Come out to watch football and win prizes including an entire home theatre set! We better see you there!
Thu 12/5 - Fine Spirits Classic at Mill City Nights (6pm-9pm)
Join us for the 2nd annual Minnesota Monthly Fine Spirits Classic! Sample high end spirits from around the world, enjoy food catered by Ruth's Chris Steak House, and be entertained by local bartenders. Good food, great drink, and of course excellent company as Carly will be there hanging!
Sat 12/7 - America's Next Top Model Casting Call- The Shops at West End (11am-5pm)
Think you have what it takes to be America's Next Top Model? Here's your chance to find out! Kirk and CW23 will be hosting the casting call at The Shops at West End- we'll be doing applicant interviews and getting you all psyched for your chance to work the runway! Woman 5'6"+ and MEN 5'10"+ and 27 years or under are welcome to join! Download your application at: http://www.thecw23.com/sections/contests/antm_castingcall/
Tue 12/10 - Jingle Ball at Roy Wilkins Auditorium & Xcel Energy Center
The CW23 is hosting the Jingle Ball pre-party that you won't want to miss! This is a must-attend concert and will include superstars: Robin Thicke, Miley Cyrus, Enrique Iglesias, Ariana Grande, Austin Mahone, Flo Rida, Fall Out Boy, and Fifth Harmony. Kirk and Carly will be interviewing attendees on the red carpet- don't miss your chance to be on TV and check out Minneapolis' hottest end of the year event!
Read more at: http://www.kdwb.com/go/jingleball2013/
Thu 12/12 " I AM MPLS!-Varsity Theater 6:30pm
I AM MPLS! is the acclaimed fashion/variety show of the year celebrating the talented and creative people of our great city. CW23's very own Carly Aplin will be strutting her stuff on the runway and covering the event. The multi-faceted event integrates comedy, music, fashion, and art to form an entertaining evening based on locally grown creative pride We'll see you there!
Kirk & Carly
---
Our 'Two Cents' on The CW's Fall Shows
10/29/13
Believe it or not, once in a while we take a break and watch a little TV. Of course On-Demand caters nicely to catching up on all The CW's top shows in which we take full advantage! Without further ado, here are our thoughts on some of The CW's shows airing this fall.
Arrow: Arrow hit the ground running in its inaugural season and its following has held strong in season 2. It's been described as a 'refreshing take on the vigilante story.' What does that mean? It means Arrow nailed it. It took a society do-gooder story and made it fresh. People have been raving about the complexity of the storyline while being surprisingly easy to follow. It's action packed and will have you hanging by every scene.
The Carrie Diaries: Since the beginning of the Carrie Diaries we've been waiting to meet Samantha. Yes, the infamous Samantha. Well, that just happened. And it was awesome. It's well known that if you like Gossip Girl and 90210 this is without a doubt your show!
The Tomorrow People: It's action-packed and has a unique storyline that hasn't been done before. Its good guys/bad guys themed, but throws in captivating Sci-Fi elements which make it futuristic and cutting edge. I mean, let's be honest- teleportation fights are pretty awesome. There's fight scenes, deep rooted story lines, and attractive people. All great things.
Reign: This is where Kirk confesses something mildly embarrassing as a man. It's his favorite CW Show. Think were kidding? Were not. It follows Mary, Queen of Scot in her complicated and drama filled preface to the leadership of Scotland. The first two episodes provoke emotions of anger, excitement, resentment, and thrill. Reign possesses all the elements of a home-run drama. Also, it's a bit of a history lesson which makes the show even cooler.
The Originals: All we have to say when it comes to The Originals is family is power. This is a Vampire Dairies spin-off in which we're reunited with some of the Vampire Diaries cast. Pretty cool, right? The Vampire Diaries has been hugely successful and The Originals is following in close pursuit. The Original Vampire family pledged to remain together, always and forever. Now, centuries have passed and the bonds of family are broken. Time, tragedy, and hunger for power have torn the Original Family apart.The storyline screams watch me!
Carly & Kirk
---
The Soap Factory's Haunted Basement: Terrifyingly Awesome.
10/23/13
That's right. Carly and I held our breath, sucked up our pride, and ventured into the depths of the Soap Factory's Haunted Basement last week while shooting our weekly C-Whats Now segment. Aside from Carly crying and sucking her thumb in the corner, the trip was a success. I'm only kidding about Carly. Kind of.
Here is why the Soap Factory's Haunted Basement is a must-do:

You're required to wear a jump suit. That's right. You'll be getting so dirty that they actually give you a onesie to wear before you enter. That's some serious stuff.
You're required to wear face mask. You can only imagine why.
The actors can touch you. Yes, as in legitimately violate your personal space. The director of the Haunted Basement, Noah Bremer, says often they will lock people away for minutes at a time in confined spaces. That would make anyone's anxiety rise.

They offer "Test Subject" tickets. What is that you ask? You go in the Haunted Basement, alone. Halloween night it's you, just you. And of course 30+ minutes of traversing the dungy, horrifying, dark, damp, basement all while trying not to pee your pants. Sounds legit.
They have stepped up their game this year. The Haunted Basement includes all new terrifying actors, disorienting rooms, hair-raising sounds, and even smells. Oh yeah, they teamed up with olfactory scientists to make your toes curl. In a bad way.
One word. "Uncle." Uncle is the word the faint of heart scream if they've had enough. As in, they need to be escorted out of the Haunted Basement because they're literally scared to death. As of last week they've had over 70 "uncles" shrieked this year. That's a record.

Scare-Cams. Cameras are littered throughout the Haunted Basement. People can watch brave souls attempt to traverse the basement without looking like a wuss. Few come out with their pride, but everyone has a good time.
They have a bar. Need I say more? For the first time the "Spooky Speakeasy" is offering craft cocktails and beverages for Haunted Basement goers to de-stress and have a good time after conquering the Haunted Basement. Also, for those who decide not to tackle to basement they can enjoy a few beverages and watch the scare cams- giving them the experience without needing their anxiety medication. Sounds like a win-win.
Check out The Soap Factory's Haunted Basement and our interview with Director Noah Bremer at:
http://thecwtc.com/sections/entertainment/cw-videos/
Also,be sure to watch our C-Whats Now this Thursday at 10p, and Saturday and Sunday at 7p!
-Kirk
---
Why "The Tomorrow People" is Awesome.
10/16/13
It's a fact: The CW is known for its action packed, uniquely themed, science-fiction dramas. So, it's no surprise that the new CW Fall series "The Tomorrow People" is following in perfect suit. The first episode aired last week and I can tell you with 100% certainty it left me wanting more. If you missed the premier, I'll fill you in.
At the center of The Tomorrow People is Stephen Jameson (Robbie Amell), who fears he's losing his mind. Not only is he hearing voices, but - as the pilot episode begins - he wakes up in bed with a neighbor and his wife. It's safe to say that doesn't go well. As we find out, Stephen is one of The Tomorrow People. He's teleporting in his dreams and receiving telepathic messages from other Tomorrow People. Seems out there, but hold on.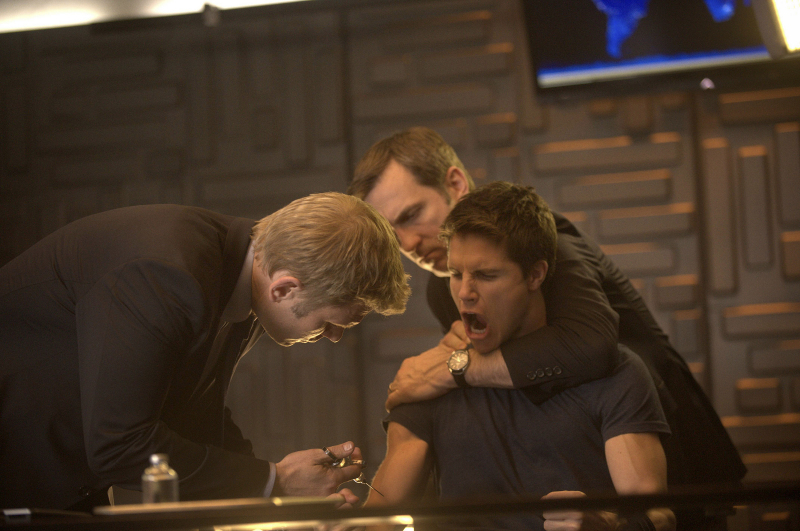 The Tomorrow People recruit Stephen to join their group which seems like a pretty good idea considering there's also a secret government-supported group "Ultra" that wants to get rid of all the Tomorrow People- seeing them as a threat to us 'regular' humans. It also turns out that Stephen's long-missing father is somehow tied into all of this. As is another member of his family. Trust me, the plot and subplots are good and the action keeps you hooked.
To solidify this shows awesome-ness, E! Online took a survey in which 83% of voters said 'Save It' while only 17% said 'Sink It.' Now THAT is some astounding feedback!
Also, here is sheknowsentertainment.com's reasons why you should check out the pilot episode and keep watching:
In the end, Stephen makes an unexpected decision, which could lead to a unique sci-fi perspective.
Teleportation fights are pretty awesome. (The show didn't slack in the special effects department.)
Robbie Amell, who plays Stephen, manages to pull off that awkward but attractive quality better than we expected.
You gotta love Jacob from Lost (aka actor Mark Pellegrino, who plays Jedikiah).
Make sure to check out "The Tomorrow People" Wednesdays at 8p only on CW23!
---
State Fair Recap
08/29/13
Although the Minnesota State Fair is only halfway through, The CW Twin Cities had PLENTY going on the first two days of the great Minnesota get-together to keep the buzz alive.
We were lucky enough to have a booth and stage for the opening Thursday and Friday of the Minnesota State Fair. All of us here at The CW Twin Cities made sure to JAM PACK our first time at the fair with celebs, giveaways, and more! To start things off Thursday we had the man, the myth, the legendary JERRY SPRINGER come into the studios for interviews and commercial shoots. The man is nearing 70 years old, but he still has the vitality of a 20 something. He was fun, funny, polite, conversational, and very down to earth. We shot the bull for an hour about life, his career, etc. and I must tell you I have a new found respect for Jerry. He then went down to the State Fair and did a great Q & A session with the crowd and signed autographs for anxiously awaiting fans. We also had Ring of Honor wrestling superstars 'MsChif' and 'Unbreakable' Michael Elgin come in studio for an interview and then head to our booth at the fair to partake in a Q & A session (they aren't nearly as scary in person as they are on TV). Teri Knight (Host of Dig In, Minnesota!) rounded out our Thursday with a gardening demonstration that fair-goers really got into.
Friday started out with a BANG! Kevin Frazier, host of omg! Insider came to hang for the day and participate in all sorts of ridiculousness at the fair. Carly and I were both lucky enough to interview him and shoot a number of giggle-worthy commercials. Kevin's wife is from St. Paul so he has quite a soft spot for our city (and the State Fair) and gets here whenever he can. By the end of the day Kevin and I had tried deep fried Snickers bars, deep fried doughnuts, big fat bacon, hot dish on a stick, giant turkey sandwiches, and deep fried apple pie. To say I needed to loosen my belt is an understatement. Carly also did a hilariously fun segment with Kevin searching for a wife for Michael Yo (Kevin Frazier's co-host on omg! Insider). The videos will be up on the web over the next few weeks and are VERY worth watching!
Fair-goers also LOVED testing out their on-camera abilities at our booth! We gave anyone and everyone a chance to read the teleprompter to see if they have what it takes to be on the small screen. Our 'fans on a stick' kept fair-goers cool and the CW swag we handed out was a hit as well!
All in all I really enjoyed our Minnesota State Fair involvement and cant wait for next year. What's on tap for the rest of the week? Live cut-ins from the State Fair at 10a, 2p, and 4p with Carly and I so make sure you tune in!
-Kirk

---
It's Minnesota State Fair Time!
08/14/13
Its MINNESOTA STATE FAIR time! That's right! The BEST time of the year is just around the corner and The CW Twin Cities will be there catching all the action!
Next week the Minnesota State Fair kicks off and YOU need to stop by The CW Twin Cities booth by the haunted house Thursday, August 22nd and Friday, August 23rd! Why do you ask? Aside from being able to meet yours truly (ehhemm) and the wonderful Carly Aplin, we have a great line-up filled with your favorite celebrities!
From 4-6pm on Thursday the 22nd you'll have the chance to join in on a Q & A session and meet the legendary JERRY SPRINGER! That alone is worth stopping by! Of course Jerry will also be taking pictures and signing autographs. Also hanging with us at our booth on Thursday from 2-3:30pm will be Ring of Honor wrestlers 'MsChif' and 'Unbreakable' Michael Elgin. They'll be doing a wrestling demonstration along with signing autographs and taking pictures! Lets not forget about one of our favorites, Terri Knight host of Dig in Minnesota who will also be there to greet fans and give a gardening demonstration from 10-11am.
Friday the 23rd brings even more action with Kevin Frazier from OMG Insider signing autographs and taking pictures from 2-4pm and AWF wrestlers joining the booth from 12-1:30pm. Terri Knight will also be hanging with The CW Twin Cites crew again from 10:30-11:30am.
The action doesn't stop there! Come on by to grab a courtesy 'fan on a stick' and check out the jumbotron featuring our exciting fall line-up and Kirk/Carly bloopers. You can also test out your TV skills! Well be there with our teleprompter and camera giving you a chance to test your on-camera abilities.
For a complete list of appearances and times go to www.thecwtc.com or check us out on Facebook! We'll see you at the fair!
-Kirk

---
Join us for Teen Vogue's Back to School Saturday!
08/06/13
That's right! Both Carly and I will be hosting Teen Vogue's Back to School Saturday at Ridgedale Center this Saturday, August 10th from 11-2. Why should you go? I'll give you plenty of reasons!
* Enjoy Macy's make-up sessions and Teen Skin Care clinic.
* Feel the vibes with live music from 'The ReadyGoes' (www.readygoes.com).
* See the latest fall trends with multiple fashion shows including a 'Full Fashion Panic' presentation by MCAD students and emerging local designers.
* Free food sampling from Macy's.
* Strike a pose at the photo booth and get special mall offers.
* Join 'The Club' and register to win a $1,000 back-to-school shopping spree!
* Participate in 'Way To Grow!' Ridgedale shoppers can donate backpacks and other school supplies to this great organization. You can look for the donation bins throughout the center from 8/10-9/10
* Hang with Carly and I which will be a guaranteed good time.
We'll see you there!
-Kirk

---
A Fisherman's Addiction
07/31/13
I know this burning question keeps you up at night: What on earth does The CW Twin Cities host Kirk DeWindt do when he's NOT in The CW Twin Cities studio or kicking his personal training client's butts?!?! The answer is simple. He fishes. A lot.
Okay, time to stop talking in the third person. I'm quite sure I was born with this rooted and innate passion for fishing. Not only that,but I'm almost positive I possess a 6th sense when it comes to catching more fish than any other man alive. Okay, maybe a sliiiiight exaggeration. However, I will forever pride myself on catching more fish than any other guy in the boat. Even as a youngster I'd lay awake in bed all night with anticipation of fishing the next morning. The excitement shot through my body and my mind ran wild with anticipation of the next day. Truth be told that's never left. To this day NOTHING excites me more than an early morning out on the water. Nothing. Some things just cant be explained.

This initial love for chasing down the biggest fish I can find has led me to a second life as a competitive bass fisherman. Almost every weekend in the summer you'll find me on one of Minnesota's or Wisconsin's lakes fishing in a bass tournament. From Lake Erie to Lake of the Ozarks, Missouri I've traveled the Midwest competing against other men who share my same passion. I certainly don't win them all, but I guarantee you when I take home a victory nothing is sweeter. Nothing.
Go ahead and ask me what I'll be doing this weekend. The question is rhetoric.

See you on the water!
-Kirk
---
The Young Hollywood Awards to Air on The CW!
07/23/13
Guess what?!? THE YOUNG HOLLYWOOD AWARDS have partnered with The CW to broadcast this years star-studded red-carpet event! The Young Hollywood Awards are considered the 'Oscars of Young Hollywood' and is celebrating its 15th year. The nominees are the future of the entertainment industry- you wont want to miss it!
Since its inception this vibrant red carpet show has served as a launch pad for the future careers of many of today's top actors, directors, and entertainers. A must-attend for Hollywood's A-list talent, industry executives, and fans, the annual Young Hollywood Awards draws extensive media coverage from national and international press.

Past Young Hollywood Awards recipients and presenters include: Scarlett Johansson, Taylor Swift, Ryan Gosling, Zac Efron, Justin Bieber, Jake Gyllenhaal, Jessica Alba, and Mila Kunis. Talk about big time Hollywood entertainers!
This year, recognition will go to: Pretty Little Liars' LucyHale, Fashion Police's Kelly Osbourne, Game of Thrones' Liam James and The Carrie Diaries' blossoming starlet Anna Sophia Robb! That's right, one of our very own CW'ers is up for nomination!
Make sure to tune in to The CW Twin Cities Thursday, August 1st at 7pm to catch all the action!
-Kirk
---
Yum! MN State Fair unveils new foods for 2013
07/23/13
There's no denying it. Food is best part of the Minnesota State Fair... Trying new food, savoring the old, its what keeps me coming back year after year. It doesn't hurt that The CW Twin Cities is located DIRECTLY across the street from a main entrance to the fair.
Minnesotans love their state fair food, that's why the unveiling of new foods creates a flurry of Facebook and Twitter activity. Every year without fail, fair-goers go bonkers for the appetizing photos and detailed descriptions released by the MN State Fair. Its a chance to dream about what they'll dine on from August 22 " September 2.. Minus the calories they'll consume!

This year there are over 40 new foods for hungry visitors totry. New items range from Bacon-Wrapped Grilled Shrimp on-a-stick (The ShrimpShack) to my personal favorite, Cocoa Cheese Bites (Axel's). My 'must-try' list for new bites this year includes:North Woods BBQ Taco (San Felipe Tacos), Pork Belly Sliders (O'Gara's at the Fair), and Chocolate Chili Ice Cream (R&R Ice Cream). Whats on your list?
For a full list of new selections visit: http://www.mnstatefair.org/fun/new_food/
-C
---
'Whose Line Is It Anyway?' returns!
07/17/13
Yes, I'm totally pumped! Why? Because 'Whose Line Is It Anyway?' has returned to television and the show is calling The CW, home! Aren't we lucky?!? I cannot tell you how much I LOVED this show. True comedy and hilarity for a half hour straight. It goes without saying I'll be watching.
'Whose Line Is It Anyway?' began as a British radio program in 1988 and quickly morphed into a TV series that lasted 10 years. As the show gained popularity it reached the USA for an eight-season run on ABC and ABC Family. The series last new episode aired just six years ago. Much like me, its not surprising that thirsty comedy fans flipped out when The CW revealed in March that 'Whose Line' would be back for 10 episodes this summer. Veteran improvisers Colin Mochrie, Wayne Brady, and Ryan Stiles will all appear in each installment; comedian Aisha Tyler is stepping in for Drew Carey as host.
Make sure you tune into The CW Twin Cities Tuesdays at 7pm to enjoy the hilarity! I know I will be!
-Kirk
---
The iHeartRadio Ultimate Pool Party
07/09/13
Looking for a way to spice up your Monday night? Well, you're in luck! The iHeartRadio Ultimate Pool Party is back this year for round two of fun, sun, and some of the summer's hottest artists. For the first time ever The CW Twin Cities will air a two-hour special highlighting the best musical performances, DJ sets, exclusive interviews and backstage access to this high-energy party! We're going to feature the summer's most popular artists and DJ's including Ke$ha, Icona Pop, Pitbull, Krewella and AfroJack.
Don't worry, our coverage of happening events doesn't stop here! The CW will also be the exclusive broadcast home of iHeartRadio's holiday Jingle Ball concert, album release parties, and other concert specials!
TheiHeartRadio Ultimate Pool Party will air on The CW Twin Cities Monday, July 15that 7pm. You wont want to miss it!
-Kirk

---
The untold story of my love for historical drama…
07/02/13
I've found my new prime time obsession... And it's called "Reign."
Compared to the typical futuristic dramas we've grown accustomed to, "Reign" is much more my style. I'm a sucker for historical drama. And what's more dramatic than the rise and fall of Mary, Queen of Scots?!
The CW's "Reign" is the untold story of Mary Stuart,Queen of Scotland. The much-anticipated new show is a modern twist on a classic story. Think "Game of Thrones" meets high school drama. Don't let high school comparison fool you, there's plenty of PG-13 content including sex, fashion and danger - very Gossip Girl-esque.
My review is this: "Reign" is fast-paced and eye-catching; definitely a recipe for success! I think the CW is going to hook their prime time audience with this one. The fresh-faced Adelaide Kane (Teen Wolf)does a beautiful job in the role of Mary. I look forward to watching her develop throughout the season. I'm already a huge fan after watching the pilot.
The only critique is the confusing mix of current radio hits and mid-15th century drama. Somewhat jarring, but it may work for the show. We shall see!
"Reign" will premiere this fall on The CW Twin Cities.
Stay tuned! Next week I'll preview another CW pilot.
-Carly
---
Minnesota Lynx Superstar: Janel McCarvel
07/02/13
The coolest part about my week? Interviewing Janel McCarvel of the Minnesota Lynx of course! This WNBA super star took a break from the court to chat with me and I got the inside scoop on this season, the team dynamic, and Janel's Wisconsin-rooted upbringing.
I'm a little biased here, Janel is a Wisconsinite. So of course I'm inclined to like her a tad bit more than usual. She hails from near Stevens Point, WI which is quite close to my hometown of Green Bay. And, she's a farm girl. Nothing better than a feel good story of a small town girl making it big in a professional sport. But don't worry, Minnesotans! Janel put in 4 solid years at the University of Minnesota and of course is back in the cities dominating the court with the former WNBA champs. It's safe to say she carries dual allegiance to both Minnesota and Wisconsin!
Above is a photo of Janel back home where she grew up. See that hoop in the background? That's where it all started for this force on the court. A short, beat up, basketball hoop attached to the chicken coup. Now that's humble beginnings.
To check out my interview with Janel tune into C-What's Now Thursday, July 18th at 9:30pm, and Saturday July 20th and Sunday July 21st at 7:30pm!
-Kirk
---
10 Fun Facts About Our Co-Host Kirk!
06/25/13
1) My middle name is Donald. Lots of quacking when this happened to come up in middle school.
2) 2) Nothing gets me more excited than bass fishing. Nothing.
3) 3) My dad is a Taxidermist. No joke. He brings animals 'back to life' by stuffing them so you can hang them on your wall. Always interesting reactions when friends visit his workshop.
4) 4) I have an unusual obsession with dinosaurs. Something about the fact they actually existed blows my mind.
5) 5) I eat froyo (frozen yogurt) a minimum of twice a week. I probably should work on that.
6) 6) My passion lies in fitness and I own my own personal training business. (www.kirk-dewindt.com) Come in for a free initial session!
7) 7) My second toe is oddly longer than my first. I believe a longer second toe is a clear sign of enhanced intelligence. And, I base this on nothing.
8) 8) I exponentially enjoy mornings more than evenings.
9) 9) I prefer road trips over flying. Something about the journey of driving makes trips that much more memorable and the destination that much more rewarding.

10) Even though I'm on television, I go weeks without watching it.
---
Chasing Down Olympian Carrie Tollefson
06/19/13
Its not every day you get to interview an Olympic athlete. Well, unless you're ME of course! Okay, just kidding. This is my FIRST time interviewing someone of such athletic accomplishment and I couldn't be more excited!
Olympian Carrie Tollefson is our very own home-grown Olympian originating from Dawson, MN. Carrie and I were lucky enough to cross paths a few years back as we are both involved in the Twin Cities running community. Hence, I was able to get her to stop running for a few minutes and actually chat with me! Back in the day my proudest accomplishment was achieving collegiate, All-American status in the1500m run. Of course Carrie is an OLYMPIAN, which builds a sliiiiiiightly more impressive running resume. However we both specialized in the 1500m which gives me a deep respect for what she's accomplished in her career.

So what did Carrie have to say? For the FIRST TIME she's tackling the Marathon. That's right, 26.2 miles of sheer bliss! Carrie will be debuting in her inaugural marathon at the Medtronic Twin Cities Marathon October 6th. But don't think for a second running is all Carrie has going on. She works full-time, is a proud mom of two, and runs an online publication called CTolleRun. (Make sure to check out her website at www.ctollerun.com) This woman has one speed, and it's FAST. Always busy, always moving. And that's something to admire! My interview with Carrie Tollefson will air on our C-Whats Now segment this Thursday at 9:30pm, and Saturday and Sunday at 7pm. Don't miss it!
-Kirk

---
Carly's Review: "The Tomorrow People"
06/18/13
I've always been a big fan of my job (obviously)...I feel pretty blessed to be able to interview some of my favorite actors, athletes and TV stars. However, I recently realized how true this was when my boss gave me a stack of pilots to watch as part of my duties. Watching TV seems like a great way to spend a weekday afternoon. Twist my arm.
The CW is known for their original programming, rebooting classics and nerve-wracking dramas. So I'm wasting no time diving into my first prime-time pick: The Tomorrow People. The new sci-fi thriller revolves around several young people who possess special powers,including the ability to teleport and communicate with each other telepathically. This means naturally, evil forces are out to get them.
I was pleasantly surprised by this new show. When I first read through the pilot synopsis it was not at the top of my list. However, Robbie Amell (cousin of Stephen Amell from The CW's Arrow) is a perfect fit for his superhero-esque character, Stephen. And the plot is a perfect fit for The CW audience.
In the first episode, there's plenty of action and romance to keep your attention throughout the hour-long show. The adventures of the young adults struggling with their human evolution are across between X-Men and Smallville. I predict this will be one of the year's biggest hits for the 2013-2014 season, nabbing audiences similar to Arrow and Supernatural. Watch the trailer and you'll see what I mean. I'm hooked.
http://www.youtube.com/watch?v=JwXVsRUi53k
-Carly
---
Help a Child in Need, Smile! With Face to Face Organics!
06/12/13
In developing countries, facial deformities among children are a major problem that leaves kids unable to socialize, eat, or smile. Unfortunately, most cannot afford a simple surgery that has been around for decades. Knowing this, the thought arises: Instead of simply acknowledging the problem, why not DO something about it? Well, that's exactly what Jimmy Ennen and two of his recent college-grad buddies decided to do! I was able to chat with Jimmy about Face to Face Organics about how the company got started, and who benefits from organic lip balm purchases. The interview will be airing on our C-What's Now Segment Thursday, Saturday, and Sunday this week!
In order to help children with facial deformities Jimmy and his buddies had to come up with a product and concept that would benefit people purchasing the product AND effectively help people in need at the same time. This is where the idea of Face to Face Organics came to be. What's the concept you ask? Face to Face offers organic lip balm with a built-in donation that brings their customers 'face to face' with the sustainable healthcare initiatives Face to Face supports. Talk about a cool initiative!
Currently, $1 of each tube of lip balm sold goes towards free, comprehensive health services for children in need with cleft lip, cleft palate, and other facial deformities. Their tag line is 'Sharing Smiles' and there's no doubt they're accomplishing that. In fact, Face to Face only started 5 months ago and they already have funded SIX facial reconstructive surgeries! Talk about do-gooders! Way to go, guys!
Make sure to check out my C-Whats Now interview with Co-Founder and President Jimmy Ennen to find out how YOU can help the cause or buy this lip balm. The segment will air this Thursday at 9:30pm, and Saturday and Sunday at 7pm!
-Kirk

---
CW fall launch includes superheroes and sci-fi
06/12/13
The CW is shaking things up for the upcoming 2013-204 season. Viewers can expect the return of some of their favorite dramas, and the addition of several new shows that are sure to be a hit.
The announcement of the new broadcast schedule highlights the networks goal to broaden the 18-34market and offer more original programming all year long. So here's a few to keep on your radar...
The CW will use two of its highest-rated shows (The Vampire Diaries and ARROW) to launch new dramas 'The Tomorrow People' and 'Reign,' on Wednesday and Thursday nights. The Tomorrow People is the story of a highly intelligent group of people who can both teleport and communicate telepathically, so naturally a team of evil people want to hunt them down and get rid of them forever. Reign will reveal the untold story of Mary, Queen of Scotland.
Vampire Diaries fans rejoice with the announcement of there turn of Klaus, Elijah, and Rebekah - the original family of vampires - who will be featured in the spin-off series, 'The Originals,' on Tuesday nights.
Don't worry your favorite CW shows will also be back including Hart of Dixie Mondays at 7p; ARROW on the same night and time (Wed.7p); and The Carrie Diaries moving to Friday nights at 7p. Fan favorites Beauty and the Beast and Supernatural will also return to The CW.

Stay tuned for the next three weeks, Ill be reviewing each pilot for the new shows!
---
Say what? Oscar-winning screenwriters join us in-studio
05/29/13
Its not often we have a direct connection to an Academy Award winner, not to mention TWO Academy Award winners, but this week we literally have a brother of a guy I work with who knows a guy. You follow?
Directors, writers and actors Jim Rash and Nat Faxon are well-known for their 2012 Oscar win for The Descendants, and it just so happens our very own CW Twin Cities sales executive has a brother who produced the movie alongside Rash and Faxon, small world huh?
Rash and Faxon stopped by to chat about their latest film The Way, Way Back, an inspiring story about a teenager comes into his own thanks in part to the friendship he strikes up with one of the park's managers. The writing partners told us the movie is an 8-YEAR project in the making and is loosely based on occurrences from Rash's own childhood. Faxon says they want audiences to feel a sense of nostalgia when viewing the film,and I think they nailed it!
Watch C-Whats Now Thursdays at 9:30p for the latest Twin Cities events and then catch my interview with the Hollywood duo in July.

The Way, Way Back in theaters July 12.
-Carly

---
Memorial Day: The movie
05/21/13
We all love Memorial Day for a plethora of reasons: the warmer weather finally arriving, time spent with family and friends, and the always welcomed three-day weekend (one of my personal favorites). Now of course we can't forget the reason the holiday exists; to remember the men and women who died while serving in the United States Armed Forces. And, what better way to pay tribute to those who have served our country than by making a movie about it, right?!? Well, that's exactly what our very own home-grown trio Sam Fischer (Director), Jeff Traxler (Executive Producer &Story By) and Kyle O'Malley (Executive Producer & Story By) decided to do! And, their movie 'Memorial Day' will be airing at 7pm on The CW Twin Cities!
Carly and I had the pleasure of interviewing the three masterminds behind the movie a few weeks back and it was nothing short of astounding. This trio came up with the concept, storyline, and budget to make the film all on their own. And, the kicker? THE ENTIRE FILM WAS SHOT HERE IN MINNESOTA!!! That's right! From Holland, Germany, Belgium, and even Iraq, the creative minds behind the film managed to shoot realistic and authentic scenes right here in our own backyard. In fact, the house that is used throughout the film is located in Faribault, MN (just south of the Twin Cities).
Between the film being shot in Minnesota and the emotionally provoking stories of a boy's Iraq war experiences and his grandfather's WWII experiences, Memorial Day truly hits the mark. Recognizing that the film was shot in our backyard makes it that much more phenomenal. And, knowing the Director and Executive Producers hail from this great state, make the film epic for those who call themselves Minnesotans. You can check out our C-Whats Now interview with Sam, Jeff, and Kyle this Thursday at 9:30pm, and Saturday and Sunday at 7pm. And of course, make sure to watch 'Memorial Day' this Memorial Day on Monday, May 27th at 7pm on The CW Twin Cities!
-Kirk
---
CW Invests in Music Brand
05/16/13
As networks continue rolling out their 'Upfronts,' or programming schedules for fall 2013, The CW announces a HUGE deal with Clear Channel...
The Hollywood Reporter announced that The CW has secured the festival it opened the fall with, iHeartRadio's Holiday Jingle Ball and the iHeartRadio Ultimate Pool Party. We will also broadcast album release parties and other concert specials under the agreement.
The CW Twin Cities skews to an audience that loves music; a young, vibrant audience that invests in concerts and festivities. So it seems only fitting that we ink a three-year deal with media and entertainment giant Clear Channel to broadcast their biggest music events. Stay tuned for more information including schedules, performers and your chance to get in on the action!
-Carly-
---
Goodbye 20's, Hello Edmonton!
05/15/13
Welp, there was no avoiding this one. I have now turned the wonderful (yet dreaded) BIG 3-0. That's right, I'm 30. My youth is now behind me and I can no longer use age as an excuse when it comes to immaturity or general youthful slacking. Truthfully, Id like to think now that I'm 30 I can claim I'm old enough to know what I'm doing, yet young enough to still do it. Some might call it delusional but its my current truth and I'm sticking to it! A fellow CW'er told me yesterday that anyone under 40 is still a kid. He is my new favorite co-worker.
The question now is what did I do to celebrate? Aside from my family throwing me an AMAZING surprise birthday party (I love you all to death!) I decided to contribute to the greater good and head to Edmonton, AB to participate in the Women's Retreat and Gala. Yes, that means I spent my birthday weekend in Canada, eh. The first annual event was organized to support the WIN House which is an Edmonton women's shelter for domestically abused women. I was fortunate enough to be joined by a few of my past 'Bachelorette' and 'Bachelor Pad' buddies so the weekend wasn't ALL business.
From an in-depth drilling of questions from the crowd about The Bachelor to being auctioned off for a date with contest winners, the weekend was nothing short of amazing. Women showed up from all across the Province of Alberta to be pampered, shop, drink wine, and be entertained by me and my friends. The response from everyone involved with the event was so flattering and positive that I couldn't think of a better way to put my 20's to rest and roar into my 30's. In fact the number of people that came up to me in thanks for coming out to support the cause and event was nothing short of astounding.
Between hanging with my buddies, to being entertainment for the guests in attendance one thing is for sure; giving back is ALWAYS a good way to spend your time, and there's no faster way to feel fulfilled than contributing to the greater good. My 30's are off to GREAT start!
---
From MN to LA: My visit to Extra and omg! Insider
05/10/13
From MN to LA: My visit to Extra and omg! Insider
There are days when I really, REALLY love my job. Flying to Los Angeles to visit the sets of Extra and omg! Insider definitely tops the list of favorite 'job responsibilities.'This week I had a chance to head to California and find out what makes these two entertainment shows must-see TV...
There are several things I love about visiting Extra: 1. Mario Lopez has a true soft spot for Minnesota, including a favorite restaurant (Chino Latino) 2. They film at The Grove, which is every shoppers dreamland.

Watching co-hosts Maria Menounos and Mario Lopez in-action is always an exciting endeavor. The pair credit their ability to have fun on-set as part of the shows on-going success. And it only takes one night of tuning in to understand what they mean. I challenge you not to crack a smile while watching them deliver the latest Hollywood gossip.
Next stop, omg! Insider, where I had a chance to interview hosts Thea Andrews, Kevin Fraizer and Michael Yo about their work on the top-rated entertainment broadcast. Now only six months old, Kevin, Thea and Michael told me what sets omg! Insider apart from the dozens of other broadcasts focused on Hollywood news; their resounding response? Social media interaction. The newly converted show (formerly 'The Insider') focuses on audience interaction on Twitter and Facebook. The hosts are directly responsible for tweeting, re-tweeting and posting messages to fans, and responding to fan questions. In fact, I challenge you to tweet them right now using hashtag: #omginsider. More than likely, you'll receive a response from one of the TV hosts within a few hours. omg! Insider's commitment to this type of interaction is proving to be exciting, engaging and rewarding for their audience.
Although these shows maybe considered 'rivals,' you get the sense that the talent and crew have a mutual respect for each other. A somewhat surprising discovery in the typically cut-throat land of Hollywood.
Don't miss omg! Insider weeknights at 9:30pm followed by Extra at 10pm.
...And catch my interview with these talented hosts (airing between their shows!) Thursday, May30 at 9:30p.
-Carly-
---
Help Me! I'm Editing Illiterate!
05/10/13
It should be no surprise that I've always enjoyed the fun aspects of being a TV personality; coming up with segment ideas, covering current events, getting involved with the community, and of course being in front of the camera. However, before this smiley face hits the TV screen there's a whole host of things that happen before you see the finished product. That my friends would be the wonderful world of editing!
I knowingly came aboard The CW Twin Cities with little editing experience. Okay, maybe that's a slight exaggeration. I had NO editing experience. I didn't know the difference between the editing programs 'Avid' and 'Premier.' (For those familiar with editing that would be a laughable statement) With that in mind, my task this week has been to get to work contributing to the greater good of The CW Twin Cities by learning to edit. Like a child learning to ride a bike, I've had my hand held every step of the way. I walk up to whichever producer 'victim' I can find with sad puppy eyes sheepishly saying "help me, I'm editing illiterate!" Usually someone begrudgingly takes a break from their work to show me kindergarten level skills on the Avid. Yep, welcome to my week. Slowwwwly sucking the life out of my fellow co-workers. Okay, so I like to embellish a bit. Truth be told the crew here has been nothing but helpful in learning this whole editing process. You have to learn to walk before you can run, right?
I've been honing my skills all week, and before you know it that clever little C-Whats Now segment you're enjoying very well could have been a product of my newly-refined editing skills. Watch out, Minnesota! I'm adding another weapon to my arsenal.
-Kirk